When it comes to St. Patrick's Day, there's no better way to get into the spirit than with a feast of traditional Irish food and green food, drink, and dessert ideas.
Table of Contents
Traditional Irish Food Recipes
We've rounded up some of our favorite recipes for you to try this year. Whether you're looking for a traditional Irish meal or just some kid-friendly treats for your next party, we've got everything you need to make this St. Patrick's Day even more memorable. Also, don't miss our bonus recipe for Green Pancakes below!

Here is a list of some of our favorite Irish foods that will make for a day full of good luck from breakfast to dinner. You will also find tasty side dish, dessert, drink recipes and more to liven up your celebrations.
St. Patrick's Day Dinner Ideas
Wondering what to make for your St. Patrick's Day dinner? You can go crazy and dye everything green (because that's totally what they do in Ireland.. not really). Or you can try something a little more authentic like these recipes below. If you absolutely need some green just sprinkle on a little parsley.
St. Patrick's Day Side Dishes
Ok so you have decided what St Patrick's Day food you want to make for your main course. But what about an Irish-inspired side dish? We have several easy side dishes that will go great with your favorite St Patrick's Day dinner!
St. Patrick's Day Desserts and Drinks
I have to admit, sometimes our St Patrick's Day food consists of green Jell-O for dessert. Though there is nothing wrong with that, these St Patrick's Day desserts are MUCH better! They may take a little more time than Jell-O but it's totally worth it! We are also including our favorite non-alcoholic St. Patrick's Day drinks. I know, I know "Non-Alcoholic St Patrick's Day Drink" sounds like an oxymoron. But since we don't drink beer or other alcoholic beverages, we have to improvise sometimes.
St. Patrick's Day Breakfast Ideas
Irish recipes for St Patrick's Day breakfast can be a nice change of pace from your normal morning meal. While these aren't all traditional Irish breakfasts, they are green and a fun way to kick off the holiday. Serve up some green pancakes with green eggs and ham on the side for a breakfast the whole family will love.
How to Make Green Pancakes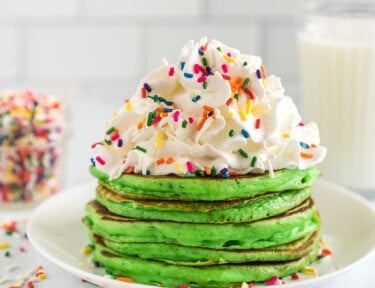 St. Patrick's Day Food Ideas: Green Pancakes
These Green Pancakes for St. Patrick's Day are sure to be a hit with your little ones and start your lucky day off right.
Instructions
In a large bowl, mix together flour, sugar, baking soda, and salt.

In a separate bowl, whisk together the egg, buttermilk, and vanilla and 3 to 4 drops of green food coloring – more or less to your taste.

Add the wet ingredients to the dry ingredients and stir until combined.

Heat a griddle to medium heat and spray with cooking spray.

Pour ¼ cup of pancake mixture onto the griddle.

Once the sides start to dry and the top is bubbling, flip the pancake using a large spatula.

Cook until both sides of the pancake are golden brown and the middle is cooked through (you can check by inserting a toothpick into the middle of the pancake – if it comes out dry it is done).

Remove from heat and serve with whipped cream and rainbow sprinkles on top.
Nutrition Information
Calories:
148
kcal
Carbohydrates:
25
g
Protein:
5
g
Fat:
3
g
Saturated Fat:
1
g
Polyunsaturated Fat:
1
g
Monounsaturated Fat:
1
g
Trans Fat:
1
g
Cholesterol:
34
mg
Sodium:
353
mg
Potassium:
114
mg
Fiber:
1
g
Sugar:
9
g
Vitamin A:
139
IU
Calcium:
76
mg
Iron:
1
mg
Love this recipe?
We want to hear from you! Please leave a review.