When you're in the mood for something a little wilder than a plain old piece of fish, this Parmesan Herb Baked Mahi Mahi is the recipe you need. With this Parmesan Herb Baked Mahi Mahi recipe, you can take your fish game to new heights!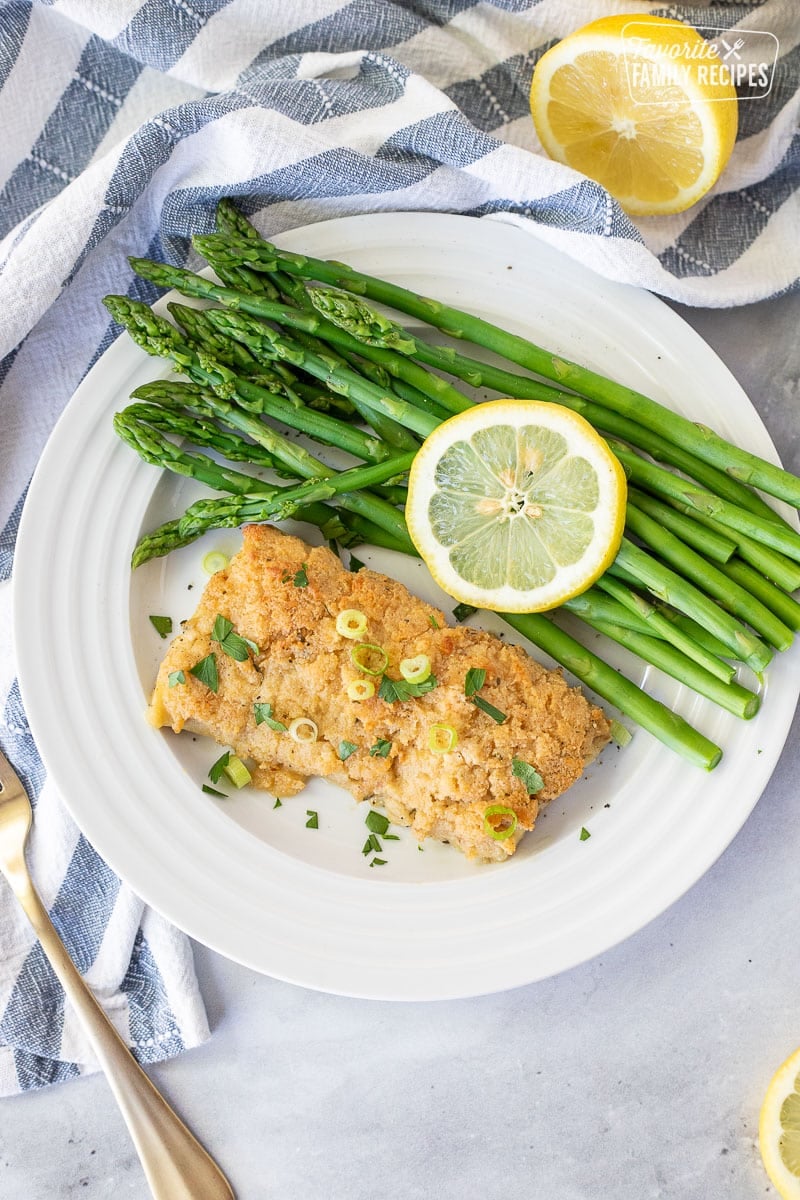 This Parmesan Herb Baked Mahi Mahi is the perfect recipe to try if you aren't the biggest fan of fish. Mahi Mahi is a mild white fish and bakes up so quickly. It only takes 30 minutes using a few simple ingredients and you can treat your family to a delicious and healthy meal.
Parmesan Herb Baked Mahi Mahi
Mahi Mahi (aka Dorado) is a delectable and versatile fish known for its firm texture and mild taste. It is one of our favorite types of fish to bake because it has such a nice texture and flavor profile. It's light and easy, plus it's high in protein, so it's a great option for those looking to cut down on their red meat intake.
You can find Mahi Mahi at most grocery stores, or you can use any type of white meat fish in its place. You can serve this meal with rice pilaf, a baked potato, some roasted veggies or green beans for a complete meal that will leave you satisfied.
If you're looking for more fish recipes, try our Baked Cod in Cream Sauce, Grilled Cilantro Lime Halibut, Grilled Mahi Mahi Fish Tacos, and Fish and Chips.
Benefits of Eating Fish
Besides tasting delicious, fish has multiple health benefits. It's packed with nutrients (omega-3's, vitamin D, protein), it could lower your risk of heart disease, stroke, depression, autoimmune diseases (diabetes), and even asthma. It can also improve vision and sleep!
Sometimes fish can be hard to include in your diet because it can taste, well… fishy. Recipes like this Parmesan Herb Baked Mahi Mahi are great for easing in to fish because you get perfectly tender, flaky, flavorful fish without the strong fishy flavor. My husband, who has a bit of an aversion to fish, absolutely LOVES this and has actually REQUESTED this dish more than once (which is kind of a big deal).
What Does Mahi Mahi Taste Like?
Mahi Mahi has a moderately mild taste to it, much like cod or grouper. It is a wild-caught, white-fleshed saltwater fish so it doesn't have much of a "fishy" flavor to it. Mahi Mahi has a better flavor and texture than tilapia (in my honest opinion) and is more meaty. It is slightly more firm and a little sweeter that other ocean-caught fish. It flakes easily and takes on different flavor profiles very well. Mahi Mahi is the perfect fish for this recipe. It takes on the slightly tangy flavor of the marinade as it bakes and flakes off in perfect, savory bites.
Key Ingredients
This recipe does't have many ingredients, but the ingredients that are used make all the difference! Here are some of the key ingredients used:
Good Seasons Zesty Italian Seasoning – what we love about this Italian seasoning is that it is easy and flavorful. It really complements the fish and gives it a bright flavor.
Mayonnaise – We like using mayo instead of butter because of the flavor. It infuses the fish while also making it tender and juicy.
Parmesan cheese – In Italy adding cheese to seafood is a cardinal sin. BUT this isn't really meant to be an Italian recipe (despite using "Italian seasoning"). Don't worry, the parmesan doesn't overpower the fish. If you really are worried about it or if you are an Italian that is offended by this recipe, you can leave it out.
Breadcrumbs – Breadcrumbs are the secret to getting that nice, crispy coating. You can use regular or panko breadcrumbs. I prefer the texture of the panko but you can use whatever you have on hand.
Lemon – I don't know about you, but I MUST have lemon served with my fish. Whether it be a little drizzle of lemon butter or a lemon wedge to squeeze over the top before eating, I just need that zesty-ness.
Mahi Mahi Marinade
For this recipe we keep the marinade simple with just a little olive oil, garlic, Italian seasoning, and a little salt and black pepper, to taste. If you want to add a little more zest to your fish, you can add a few tablespoons of lemon juice or lemon zest. Feel free to also add lemon pepper, dill, paprika, parsley, tarragon, or any other herbs or spices you love. 
Try a New Flavor Profile
To add different flavor profiles to Parmesan baked Mahi Mahi, try any of following additions:
Herb-Infused Crust: Mix chopped fresh herbs like parsley, thyme, or rosemary with the Parmesan cheese for an aromatic crust.
Mediterranean Twist: Add chopped Kalamata olives, sun-dried tomatoes, and minced garlic to the Parmesan crust. Drizzle with extra-virgin olive oil and sprinkle with fresh basil before baking.
Cajun Spice: Incorporate a Cajun seasoning blend (we like Tony Chachere's Cajun Seasoning) or simply a dash of cayenne pepper into the Parmesan crust for a spicy kick.
Coconut Crust: Replace some Parmesan with shredded coconut in the crust for a sweet and savory contrast.
Nutty Crunch: Add crushed nuts, such as almonds, pecans, or pistachios, to the Parmesan crust for a nutty flavor and crunchy texture.
Pesto Drizzle: Top the Mahi Mahi with fresh basil pesto after baking for an herby finishing touch.
What Goes Well With Baked Mahi Mahi Fillets?
For a top notch Mahi Mahi meal, serve this dish with some seasoned rice, such as our Easy Stovetop Rice Pilaf with Orzo and some roasted vegetables, like our Oven Roasted Asparagus. You can also serve fish with baked potatoes or keep it light with a tasty side salad, like our Copycat Cafe Zupa's Nuts About Berries Salad.
Tips for this Recipe
I typically find beautiful mahi mahi filets for a decent price at Costco. I like to get their individually packaged frozen filets. But if you don't have any on hand, you could use cod, tilapia, halibut, or any kind of fish.
Serve with lemon wedges so your guests can squeeze fresh lemon juice over the top. You can't go wrong with any kind of fish and fresh lemon!
The only ingredient that you may not have on hand for this is the Italian seasoning spice mix. If you don't have it available, don't worry about making a special trip to the store just to get some. We have got you covered. We have a homemade version on our recipe for Zesty Italian Shredded Chicken.
Frequently Asked Questions
How do I store leftovers?
You can store leftover mahi mahi in an airtight container in the fridge. It will be good for a couple of days. Reheat the fish in the microwave, or in the air fryer. It will be crispier in the air fryer.
Does the fish stick to the baking dish?
If you prep the baking pan properly, then the fish will not stick to the pan. A light spritz with cooking spray will do the trick. You can also line the bottom of the pan with parchment paper.
Do I need to use fresh garlic?
Fresh, crushed garlic tastes the best in this recipe. However, you can also use jarred minced garlic.
More Fish Recipes
We have lots of tasty fish recipes that you are going to love! From soups to pastas to tacos, there are so many great ways to cook up fish.
Parmesan Herb Baked Mahi Mahi
Parmesan Herb Baked Mahi Mahi is the best baked mahi mahi recipe EVER. I would even go as far to say this the best FISH recipe ever. It is THAT good!
Instructions
Place Mahi Mahi in a gallon-sized Ziploc bag. Combine marinade ingredients and pour into bag with mahi mahi. Press out air, seal, and refrigerate for at least 30 minutes.

Preheat oven to 400 degrees.

In a small mixing bowl, combine Greek yogurt, mayonnaise, parmesan cheese, breadcrumbs, and salt & pepper.

Remove mahi mahi from bag and discard marinade.

Place mahi mahi on a greased 9×13 baking dish and spread yogurt mixture evenly over the top of each filet. Optional: Sprinkle extra breadcrumbs evenly over each filet for an extra crispy topping.

Bake for 18-20 minutes or until cooked through and topping is golden brown.

Garnish with chopped green onions, chives, or a lemon slice if desired.
Nutrition Information
Calories:
399
kcal
Carbohydrates:
11
g
Protein:
37
g
Fat:
22
g
Saturated Fat:
4
g
Cholesterol:
133
mg
Sodium:
483
mg
Potassium:
768
mg
Fiber:
1
g
Sugar:
2
g
Vitamin A:
375
IU
Vitamin C:
0.8
mg
Calcium:
139
mg
Iron:
2.8
mg
Love this recipe?
We want to hear from you! Please leave a review.