The perfect baked potato is just a few simple steps away. Follow this easy method and get fluffy, delicious baked potatoes in the oven every time!
Perfect Baked Potato
This recipe may seem a little basic. However, sometimes it is good to get back to the basics! Not all baked potato recipes are created equal. You know how sometimes when you make homemade baked potatoes they end up kind of gummy? Follow this simple method and never have that problem again! This recipe produces potatoes with crispy, salty outsides and soft, fluffy insides.
Time to Toss the Tinfoil
I know you always wrap your potatoes in foil, but that ends now! Wrapping the potatoes in foil actually steams them instead of baking them. This is because it traps all the moisture inside. You will end up with a soft skin and the inside just won't be as fluffy. Rubbing oil and salt on the outside and placing them directly on the oven rack ensures a crispy outside. That is what makes a perfect baked potato! Additionally, make sure you put a baking pan on the rack below the potatoes to catch any drippings.
How Long To Bake a Potato
A good rule of thumb is about an hour at 350 degrees for a perfect baked potato. However, if you're baking more than four at a time, you'll need to increase the baking time. I usually increase it by about 15 minutes for every two additional potatoes.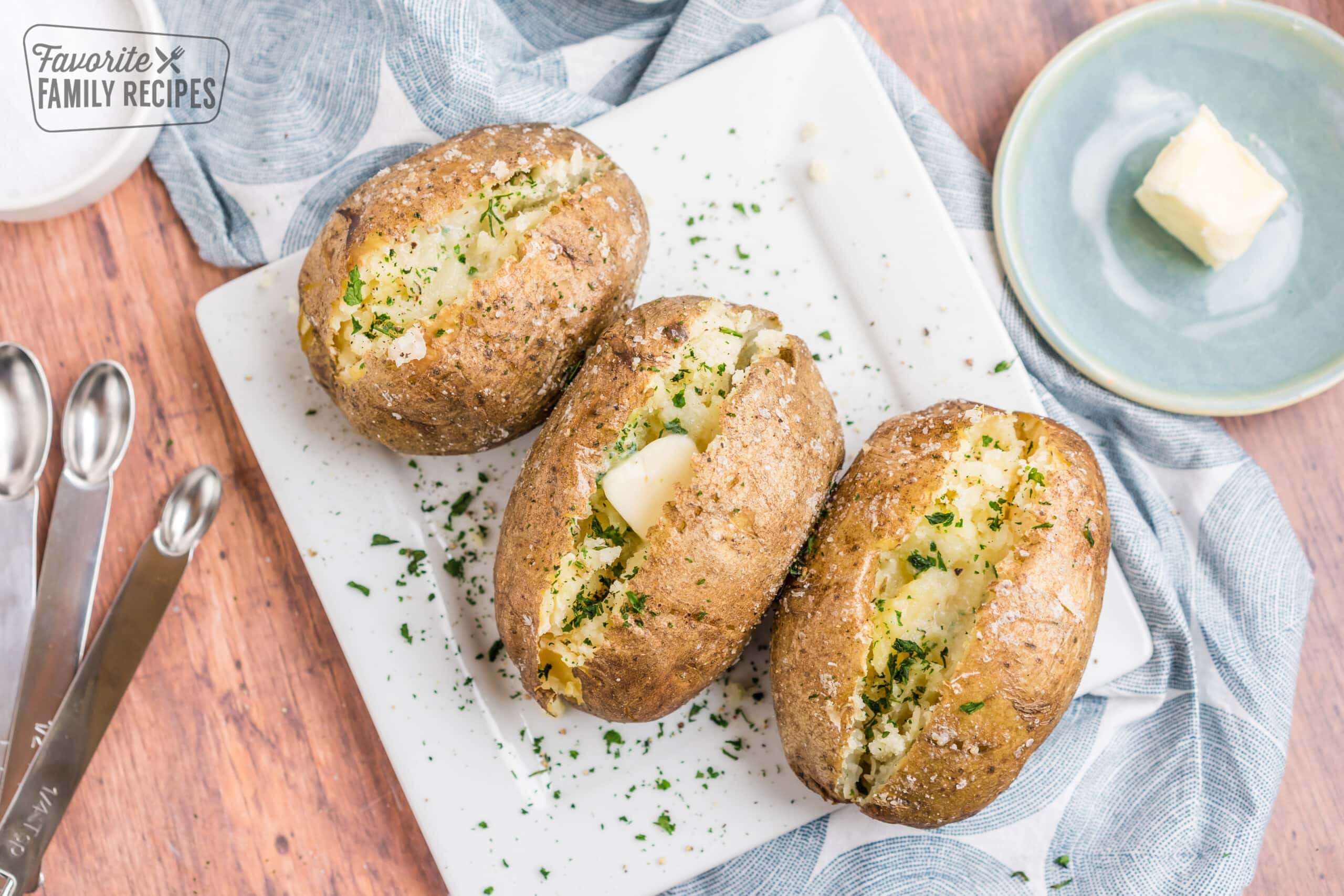 Potatoes are Good For You!
Don't let the low-carb craze scare you away from a perfect baked potato at dinner. They're actually very good for you! Here's why:
Potatoes have more potassium than a banana.
They're high in fiber, so potatoes in your diet can help lower cholesterol. It can also decrease your risk of heart disease.
Potatoes are also chock full of Vitamin C and Vitamin B6.
Plus, they're quite delicious!
Potato Topping Ideas
Now, once you have your Perfect Baked Potatoes, you're going to need some toppings to go with it! I'll give you some of my favorite ideas. If you have other ideas let us know in the comments below!
Simple: Butter, salt, pepper, and chives
Loaded: Sour cream, cheddar cheese, bacon bits, green onions, salt, and pepper
Chili Cheese Potato: Chili and cheddar cheese
Broccoli Cheddar Potato: Broccoli and melted cheese
How to Make Baked Potatoes in the Microwave
If you are short on time, you can definitely cook a(n almost) perfect baked potato in the microwave. Unfortunately, I can't promise the same crispy outside and fluffy inside. This is because the microwave will steam the potatoes rather than baking them. First, poke holes all over the potato with a fork. Then, cook for 5 minutes, then flip and cook for 3 more minutes. Cooking time may vary depending on the size of your potatoes.
How to Make Baked Potatoes in the Instant Pot
Again, if you are in a pinch, the Instant Pot can do the trick! This method is great if you need your oven for another dish. However, this method comes with the same caveat as the microwave method. The texture will not be as perfect as it is from the oven. First, put a cup of water and the trivet into the Instant Pot. Next, poke holes all over the potatoes and place on the trivet. Then, cook on manual on high pressure for 14 minutes. Finally, once the timer goes off, let the pressure naturally release for 20-30 minutes. Then, add your toppings and enjoy your perfect baked potato!
FAQ
What kind of potato should I use?
In our opinion, Russet potatoes make the best baked potatoes. They have thicker skins that crisp up really well in the oven. However, you can also use this method for Yukon Gold potatoes. They have a thinner skin, but they will get nice and fluffy on the inside.
What is the internal temperature of a fully cooked baked potato?
If you want to make sure that your potatoes are done, you can use a meat thermometer. The internal temperature should be between 208 and 211 degrees.
More Potato Side Dishes
Potatoes are so versatile and go well with many meats and vegetables. After you've tried our Perfect Baked Potatoes, venture out to our other favorites!
How to Bake a Potato
The perfect baked potato is just a few simple steps away. Follow this easy method for how to bake a potato and get fluffy, flavorful baked potatoes every time!
Ingredients
1

large

Russet potato

1

teaspoon

oil

vegetable or canola oil

Kosher salt

to taste
Instructions
Heat oven to 350 degrees and position racks in top and bottom thirds. Wash potato (or potatoes) thoroughly with cold water. Dry well. Using a fork, poke 8 to 12 deep holes all over the potato.

Place in a bowl and coat lightly with oil.

Sprinkle with kosher salt and place potato directly on the rack in the middle of oven. Place a baking sheet on the lower rack to catch any drippings.

Bake 1 hour or until skin feels crisp but flesh beneath feels soft. Serve by creating a dotted line from end to end with your fork, then crack the potato open by pushing the ends towards one another. The potato will be hot and steamy so be careful!
Notes
NOTE: If you're cooking more than 4 potatoes, you'll need to extend the cooking time by up to 15 minutes.
Nutrition
Serving:
1
potato
|
Calories:
327
kcal
|
Carbohydrates:
67
g
|
Protein:
8
g
|
Fat:
4
g
|
Saturated Fat:
1
g
|
Sodium:
647
mg
|
Potassium:
1539
mg
|
Fiber:
5
g
|
Sugar:
2
g
|
Vitamin A:
179
IU
|
Vitamin C:
21
mg
|
Calcium:
48
mg
|
Iron:
3
mg
SaveSave
SaveSave