This Ridiculously Delicious Chocolate Cake is the perfect holiday dessert. Simple to make and sinfully decadent, the name speaks for itself. It is ridiculously delicious!
Ridiculously Delicious Chocolate Cake
For several years growing up, Christmas Eve dinner culminated with an array of rich, mouth watering desserts. Cheesecake, Berry Pie, and always a glorious chocolate torte. This chocolate cake recipe reminds me of that torte, except it's so much easier to make! Layers of luscious chocolate and fluffy whipped cream cheese icing, it's the perfect dessert for any special occasion.
What Makes Cake Moist and Fluffy?
The trick to achieving that perfect moist cake is the eggs. Make sure they're at room temperature. And using hot water in this recipe will ensure your cake is light, fluffy, not too dense, and with just the right amount of moisture.
How to Store Ridiculously Delicious Chocolate Cake
Because of the heavy cream in the frosting, it's best to store any leftover cake covered, in the refrigerator. It will stay nice and fresh for up to five days. But let's be honest, cake for breakfast never hurt anybody so I'm not sure those leftovers will last that long anyway.
How To Make Layers of Cake and Frosting
You can make this cake a number of different ways. But for a beautiful presentation, I love to slice the two rounds of cake into two pieces each so you end up with four layers of cake. Using an electric mixer, whip the whipped cream cheese frosting until it is soft enough that it's easy to spread between each layer. You can also freeze the cake layers to make it easier to get a nice thick layer of icing between each luscious chocolatey layer.
Can You Freeze Chocolate Cake?
Yes! This cake freezes beautifully for up to two months. You can either wrap the layers of cake separately until you want to make the frosting fresh and assemble the cake or freeze the entire thing together. Just wrap it carefully and store in the freezer.
More Chocolate Cake Recipes To Try
We love our chocolate around here. There's a chocolate cake recipe for just about any occasion. Try a few of these decadent desserts: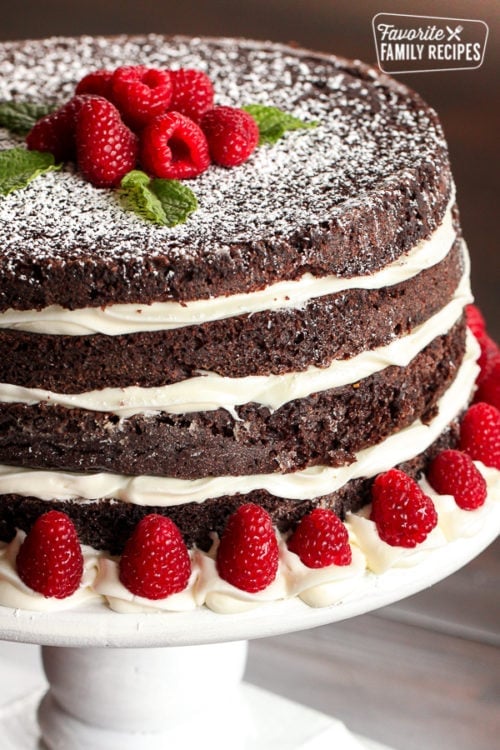 How to Make Ridiculously Delicious Chocolate Cake
Ridiculously Delicious Chocolate Cake
This Ridiculously Delicious Chocolate Cake is the perfect holiday dessert. Simple to make and sinfully decadent, the name speaks for itself. It is ridiculously delicious!
Equipment
9 inch Round Pans

Electric Mixer

Cooling Rack

Mixing Bowls
Instructions
Preheat oven to 300. Combine butter, sugar and cocoa. Add eggs and vanilla. In a separate bowl combine flour, baking powder and baking soda. Slowing add this to the the rest of the mixture. While this is mixing, slowly add the hot water, letting all the ingredients melt together, be sure to scape the sides as you go. The finished product will be runny and soupy; do not worry, this means you did it the right way. Pour into round greased pans.

Bake at 300 for about 30-40 min. Check it at 30 minutes and then every 5 minutes until toothpick comes out clean when placed in the center of the cake.

Take it out of the oven and allow to cool for 15 min before removing from pans. Let the cake cool completely on wire racks before frosting.

If you want a 4-layer cake as shown, cut each cake in half. Frost between each layer.

Optional: Sprinkle the top of the cake with sifted powdered sugar and garnish with raspberries.

Must keep refrigerated.
Frosting
First beat the whipping cream with an electric mixer til it has thickened to stiff peaks stage – almost to the thickness of soft butter. Chill the beaters and the bowl in the refrigerator before mixing to speed the process. Remove whipped cream from the mixing bowl and set aside.

Add cream cheese, vanilla, salt and 1 cup of powdered sugar to the mixing bowl. Mix until creamy and well blended.

Alternately add whipping cream and remaining powdered sugar to the mixture, blending well between each addition.
Nutrition Information
Calories:
636
kcal
Carbohydrates:
96
g
Protein:
7
g
Fat:
27
g
Saturated Fat:
16
g
Cholesterol:
109
mg
Sodium:
368
mg
Potassium:
223
mg
Fiber:
2
g
Sugar:
73
g
Vitamin A:
967
IU
Vitamin C:
1
mg
Calcium:
90
mg
Iron:
1
mg