Homemade Canned Spaghetti Sauce is FAR better than anything you can find in a store. You'll love the rich, savory flavor. The best way to use fresh garden tomatoes!
This canned spaghetti sauce is HANDS-DOWN the very best with home-grown tomatoes. We are kind of crazy about our tomatoes over here.
Tomatoes: A Family Tradition
Growing tomatoes is a "family tradition" of sorts for us. Our Uncle Larry is arguably the best gardener ever. He always has an immaculate garden, and has studied and taught about gardening. The man knows ALL the tricks to get plants to grow. Uncle Larry has 10 green thumbs! His techniques have been passed around the family, lucky for us. He shared his secrets with our mom, who also grows a bountiful garden every year. To learn more about our tips and tricks for growing tomatoes, click here.
Tomato growing is our family's way to connect year after year. We compare notes on everything from how our crops are faring, to what varieties we planted, to what has been canned so far. And of course, we love talking about all the delicious ways we can eat them! Along with the abundance of tomatoes comes a million ways to prepare them. One of our fondest memories growing up with our mom was making her delicious Homemade Canned Spaghetti Sauce. We've tweaked the recipe over the years and now it's darn near perfection!
Family Tested, Dad Approved
Part of the reason we worked so hard to perfect this canned spaghetti sauce recipe is because of our dad. To know him is to know his passionate love for Italian food. He is super picky about spaghetti sauce; it has to be just right. Well, we're happy to report that we served this sauce at family dinner recently and our dad loved it! He couldn't get enough. In fact, he used a spoon to get all the excess off his plate. He's crazy about this savory sauce, and you will be too!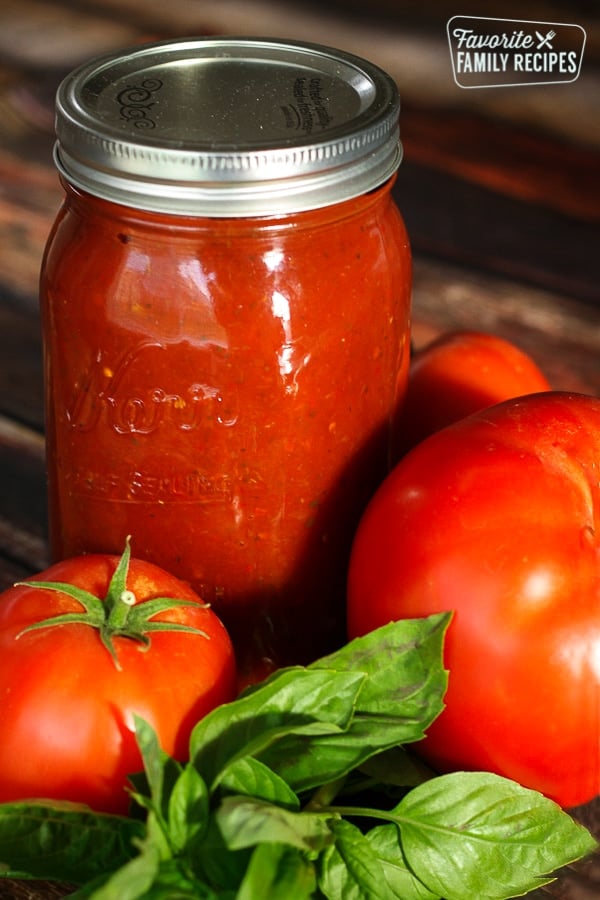 How Can I Use Canned Spaghetti Sauce?
The name may say spaghetti, but this sauce is so versatile it's sure to become one of your favorite staples, and not just on pasta night. Try it in these delicious recipes:
Minestrone Soup
Pizza Sauce, simply add a little extra tomato paste to thicken it up.
Water Bath Canning Spaghetti Sauce
This particular recipe for canned spaghetti sauce hasn't been "officially" tested for water-bath canning. However, after MUCH research, we've found that if you add lemon juice to the jars this recipe is acidic enough for canning. Tomatoes are in the "gray area" of having enough acidity, so they might be just fine on their own. But adding a bit of lemon juice ensures their acidity. If you're still worried, you can pressure can them or add more lemon juice or red wine vinegar.
UPDATE: This recipe has been tried and LOVED by many of you. Be sure to check out the comments to see everyone's reviews about this canned spaghetti sauce.
Pressure Canning Spaghetti Sauce
For a weighted-gauge pressure canner, you will want to process 20 minutes for pint jars and 25 minutes for quart jars. Process at 10 lb for altitudes between 0-1,000 feet. Process at 15 lb for altitudes above 1,000 feet. For more information on pressure canning spaghetti sauce, check out the National Center for Home Food Preservation here.
Still Not Sure About Canning? Your Questions Answered!
We get it; canning can be intimidating for some. But stick with us here, we can help you! Here are some of the most commonly asked questions from our readers:
Can I Add Ground Beef to the Canned Spaghetti Sauce?
You can add ground beef ONLY if you are going to pressure can it OR if you freeze it instead of canning it (or you just want to eat it fresh or within a few days). Do not add ground beef if you are planning to water-bath can or steam can — it will not be safe to eat after sitting on the shelf.
Can I Add (fill in the blank) to this recipe?
Be really careful when adding or omitting ingredients to a canning recipe. You are usually fine adding spices but when it comes to adding more produce, meat or anything else it could throw off the acidity levels, thus making unsafe for canning.
How long does Canned Spaghetti Sauce last on the shelf?
We usually try to eat anything that we have canned within a year. You can probably go a couple years but probably not much longer than that. Some canning sites even say you shouldn't go more than 6 months, but I think you are fine going longer than that.
Can I freeze the sauce instead of canning it?
Absolutely! This spaghetti sauce recipe freezes beautifully and lasts for several months in freezer bags or freezer-safe containers. Just make sure to thaw the sauce completely in the refrigerator before re-heating. If you DO want to add more random ingredients like ground beef or extra veggies, freezing is a good way to go if you are worried about acidity levels.
Is this sauce gluten free?
The only ingredient that has any gluten in this recipe is the soy sauce. It sounds weird to even have soy sauce in a spaghetti sauce recipe but trust us, it is divine! Instead of cutting the soy sauce, opt for a gluten free brand. The rich flavor will knock your socks off!
More Delicious Pasta Recipes
How to Make Homemade Canned Spaghetti Sauce
Homemade Canned Spaghetti Sauce is FAR better than anything you can find in a store. You'll love the rich, savory flavor. The best way to use fresh garden tomatoes!
Instructions
Fill a large pot or Dutch oven half-way with water, bring to a boil. Using a slotted spoon, add tomatoes one at a time until you can't fit any more (about 8-10 tomatoes).

Boil for 1-2 minutes. Remove tomatoes one at a time with slotted spoon and plunge in an icewater bath. Peel and quarter tomatoes.

In a food processor, cover and process green peppers and onions in batches until finely chopped (if you want to add extra flavor, saute the peppers and onions in a little oil and a pinch of salt before processing).

In a large stockpot, combine the tomatoes (do not discard excess juices from the tomatoes), onion/pepper mixture, tomato paste, soy sauce, Worcestershire sauce, brown sugar, salt, garlic, oregano, basil, pepper flakes, and bay leaves.

Bring to a boil. Reduce heat; simmer, uncovered, for 4-5 hours, stirring every 15 minutes or so (tomatoes burn easily so keep an eye on it). Discard bay leaves.

If you want to make your sauce thick and smooth, use an immersion blender to blend the tomatoes until smooth with no large chunks (you can also blend it in batches in a blender). 

Add 2 tablespoons lemon juice to 9 or 10 hot 1-quart jars (depending on how much sauce you have). Ladle hot mixture into jars, leaving 1/2-in. headspace at the top. Remove air bubbles; wipe rims and adjust lids.
For Water Bath Canning:
Process for 40 minutes in a boiling-water canner for altitudes of 1,000 feet or less. For altitudes up to 3,000 feet, add 5 minutes; 6,000 feet, add 10 minutes; 8,000 feet, add 15 minutes; 10,000 feet, add 20 minutes.
For Pressure Canning:
Using a weighted-gauge pressure canner, process 20 minutes for pint jars and 25 minutes for quart jars. Process at 10 lb for altitudes between 0-1,000 feet. Process at 15 lb for altitudes above 1,000 feet.
Notes
***This recipe makes 9-10 quart-sized jars
Nutrition
Calories:
54
kcal
|
Carbohydrates:
12
g
|
Protein:
2
g
|
Fat:
1
g
|
Saturated Fat:
1
g
|
Polyunsaturated Fat:
1
g
|
Monounsaturated Fat:
1
g
|
Sodium:
547
mg
|
Potassium:
511
mg
|
Fiber:
3
g
|
Sugar:
8
g
|
Vitamin A:
1858
IU
|
Vitamin C:
41
mg
|
Calcium:
35
mg
|
Iron:
1
mg