This Mexican Street Corn is flavored with Cotija cheese, chili powder, and lime, topped on grilled corn on the cob. It's simple to make and has an out-of-this-world flavor profile!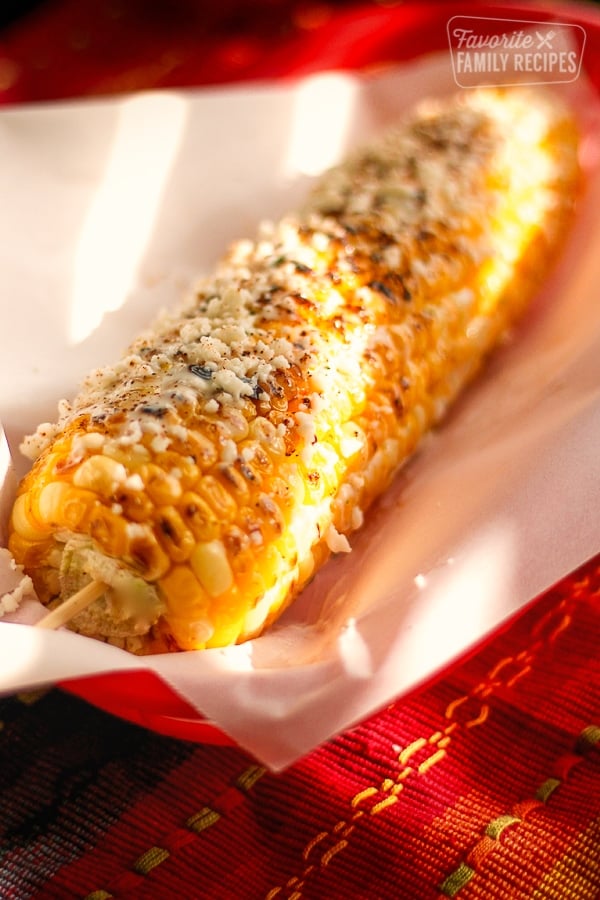 Featured with this Recipe
This Mexican Street Corn is the best corn on the cob I have EVER had. We call it "Nacho Libre" corn because it looks like the yummy corn from the movie… you know, as in "Get that corn outta my face"! If you haven't seen Nacho Libre, we give it two thumbs up! It's a fun family movie. Plus, it'll give you a great reason to make this Mexican street corn! This corn has a lot going for it. It is a rich, buttery corn, topped with the slight tangy-ness of the Cotija cheese, mayo, and sour cream. The lime and chili powder tops it all and gives you the perfect combination of flavors. Make it a family night- make this corn for dinner then watch the movie! This is another great recipe from our cousin, Kristen, over at Culinary Mamas!
Ingredients in Mexican Street Corn
Mayonnaise – you can use light mayo, but it obviously tastes best with the real, full-fat deal! I like the brand Best Foods.
Sour cream – again, you can use light sour cream, or even sub in some Greek yogurt for extra protein if you like.
Cotija cheese – you can find this in most grocery stores, it's a fairly common ingredient. Just in case you can't, you can use another cheese—it's similar to feta cheese or even queso fresco.
Chili powder – you can spice up your Mexican street corn as much or as little as you would like. You could even omit it fully if you aren't a fan of spicy, or just load it up if you want to feel the burn!
Lime – this is a recipe where it's worth using a fresh lime instead of bottled. It will make the flavor so much better!
The Best Way to Grill Corn
One of the most important components of this Mexican street corn is, well, the corn! You don't want to make this recipe with boiled corn on the cob—you'll want to grill it on a bbq grill. The bbq is really the only way to get that slightly crispy caramelized corn flavor. You want the corn to caramelize a bit to balance out the flavor profile.
Variations
If you're craving the flavors of Mexican Street Corn, but don't want to bust out the grill, try our Mexican Street Corn in a Cup. Boil frozen corn in a pot of water with a little bit of sugar until heated through. In a large bowl combine mayonnaise, sour cream, lime, and salt. I also like to add a little garlic powder, avocados, red onion, and diced jalapeño. Add cooked and drained corn to the bowl. Serve in cups or straight out of the bowl and top with cotija cheese, chopped cilantro, lime wedges and chili powder. It also makes a great topping for chicken tacos. You can also serve it as a dip for tortilla chips. Add a little extra sour cream to make it extra creamy.
Frequently Asked Questions
What do they calle street corn in Mexico?
In Mexico it is called elotes, pronounced like ee-LOW-tays.
What can I substitute for mayo in elote?
You can use plain greek yogurt instead of mayo. You can also use Mexican crema, but it is really thin.
Does corn need to be soaked before grilling?
It's best to soak your fresh corn before you grill it so that the corn kernels don't dry out and the corn still retains the moisture and sweet flavor that everyone loves.
Read Next:50+ Best and Delicious Grill Recipes To Kick Up Your Summer Cooking!
What to Serve With This Corn
How to Make Mexican Street Corn
Grilled Mexican Street Corn
This Grilled Mexican Street Corn is flavored with Cotija cheese, chili powder, and lime. We call it "Nacho Libre" because of the corn clip from the movie.
Instructions
Soak husked corn in cold water for 15 minutes. Remove corn from water and pat dry with paper towels.

Grill on medium heat for 20 minutes, turning occasionally until lightly brown on all sides.

Combine mayonnaise and sour cream.

Brush the corn generously with the mayo/sour cream mixture.

Roll in cotija cheese – kind of a mexican feta, you can sub for feta if you want.

Season with chili powder.

Then squeeze fresh lime juice over the top.
Notes
Use sour cream or plain Greek yogurt instead of mayo if desired.
For spicier corn use cayenne pepper.
If you can't find cotija cheese, use feta or queso fresco.
Nutrition Information
Calories:
304
kcal
Carbohydrates:
21
g
Protein:
9
g
Fat:
23
g
Saturated Fat:
9
g
Cholesterol:
47
mg
Sodium:
533
mg
Potassium:
304
mg
Fiber:
2
g
Sugar:
8
g
Vitamin A:
416
IU
Vitamin C:
11
mg
Calcium:
206
mg
Iron:
1
mg
Love this recipe?
We want to hear from you! Please leave a review.