Poutine is a popular Canadian dish that will change the way you eat regular French fries. Instead of ketchup or fry sauce, these crispy fries are covered in cheese and beef gravy.
What is Poutine?
Poutine is basically Canada's version of smothered fries. It is like a cross between mashed potatoes and gravy and cheese fries. French fries smothered in gravy and cheese may sound strange but really, it's no less strange than American chili cheese fries. We made these for a missionary that was serving in our area who was from Quebec because he was missing home. Our recipe got his stamp of approval, and he even admitted that our poutine was up there with some of the best he has tried (score)!
Poutine Origins
It is well known that Poutine originated in Quebec, Canada in the 1950's, however no one knows who actually came up with the original idea. There are several restaurants throughout Quebec that claim to be the original no one really knows for sure. Poutine was an immediate, widespread hit with French Canadians all over the province, which is why it's hard to pinpoint the exact restaurant/chef that came up with the idea. It can now be found all over the world from food trucks, to diners, to sporting events and has dozens of variations.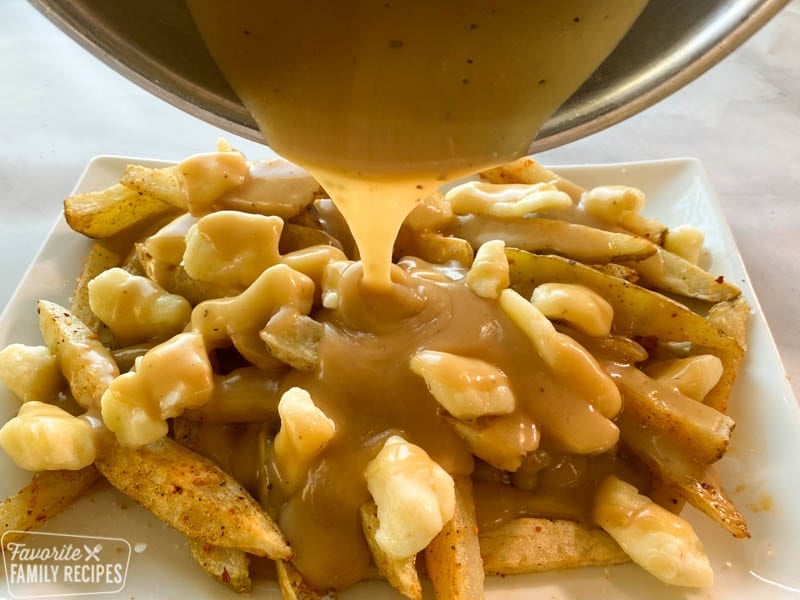 Poutine Ingredients
Traditional poutine consists of 3 major parts: French fries (or potatoes), cheese curds, and gravy. You can find variations adding more toppings etc.. but traditional poutine usually requires at least these 3 things.
Potatoes/Fries
The first layer of poutine is always some kind or potato. This is the "base". The best potatoes to use for fries when making poutine are russet. Because they hold their shape better, they crisp up nicely in the oil. Softer potatoes like Yukon Gold will get mushy and fall apart. If you don't want to deep fry your own fries, you can bake your own or use frozen fries. Do what it easiest for you! Feel free to get creative and try making your poutine with potato wedges, waffle fries, tater tots, or roasted potatoes.
Poutine Gravy
I prefer using leftover beef gravy from our Sunday roast dinners for our poutine. The recipe below is if you want to make your poutine gravy from scratch. If you are in a hurry, you can use a gravy packet mix or bottled gravy. Leftover turkey gravy from Thanksgiving or Sunday dinner is also delicious to use too. Don't let that good leftover gravy go to waste; use it for poutine!
Cheese
Always use cheese curds for this recipe! It is also known as "squeaky cheese." Cheese curds are perfect for Poutine because the cheese maintains its shape, but melts slightly in the hot gravy. You can use cheddar cheese curds or mozzarella cheese curds (or any kind of cheese curds, really). We used garlic-flavored mozzarella cheese curds once and they worked great. The combination of cheese curds with the salty fries is just so scrumptious! If you absolutely can't find cheese curds, you could possibly get away with fresh packed mozzarella or Oaxaca cheese. Some suggest using Ricotta or cottage cheese, but please don't because I promise you will not be happy with the outcome. You want a good melty cheese that will give you a nice cheese pull.
Where to find cheese curds
Cheese curds can be found in the cheese section of most grocery stores, however you may have an easier time finding them in a grocery store that offers specialty cheeses. You can also find fresh cheese curds at cheese factories. Every time we visit the Oregon coast, we make it a point to visit the Tillamook cheese factory to get fresh cheese curds. If you ever make it there yourself, you MUST get the fried cheese curds. They will blow your mind!
Poutine Variations
Don't be afraid to get crazy with Poutine variations! Have leftover roast? Add it on there! Bacon crumbles? Go right ahead! Here are a few more variation/fusion ideas:
Sunday Leftovers – Add poutine with leftovers. Sunday night roast and gravy turns into Monday night football appetizer or maybe more appropriately, hockey games!
"Loco Moco" (Hawaiian style) – add a fried egg to the top
Pizza Poutine – Swap out the gravy for pizza sauce and top with your favorite pizza toppings
Bacon & Mushroom – Add fresh crumbled bacon and sautéed mushrooms
Tips for making Poutine
Don't take your poutine too seriously. Be flexible and use what you have. You really can't go wrong!
When frying your French fries, make sure you are using the accurate temperatures. Use a kitchen thermometer or a fryer with a temperature gauge.
Don't forget to season your fries once they are cooked! Use sea salt or seasoning salts to being out the flavor.
When ready to eat, you can broil it on high for 2-3 minutes to make the cheese melt faster.
More potato recipes
You can serve Poutine as a full meal or appetizer or alongside roast beef, chicken or turkey. Being from Idaho, we take our potatoes seriously around here. Try more of our delicious potato recipes;
How to Make Poutine
Poutine (Canadian Smothered Fries)
Poutine is a popular Canadian dish that will change the way you eat regular French fries. Instead of ketchup or fry sauce, these crispy fries are covered in cheese and beef gravy. 


Ingredients
6

russett potatoes

cut into fries

oil

for frying

2

teaspoons

seasoning salt

1

cup

white cheese curds

1 1/2

cup

gravy

leftover beef gravy is best, but you can also use the recipe below
Instructions
Cut potatoes into fries and soak for at least 1 hour (or overnight in the fridge). Dry well with paper towels.

Heat oil in deep fryer or large skillet to 300 degrees. Fry fries in batches (try not to overcrowd) of about 5 minutes each to soften. Remove from oil and drain, increase oil temp to 400 degrees and fry again for 2-3 minutes or until golden brown and crispy on the outside.

Place fries on paper towels to drain excess oil. Season with salt and place on large plate or platter.

Sprinkle cheese curds evenly over fries and pour hot gravy over the top. Serve immediately.
For the gravy:
Melt butter in medium-sized saucepan over medium heat. Whisk in flour making a roux. Cook for about 1 minute.

Reduce heat and slowly add beef broth, whisking constantly, until you reach your desired thickness. Add onion powder and salt and pepper, to taste. Serve hot.
Nutrition Information
Calories:
315
kcal
Carbohydrates:
34
g
Protein:
13
g
Fat:
15
g
Saturated Fat:
9
g
Cholesterol:
45
mg
Sodium:
1552
mg
Potassium:
923
mg
Fiber:
6
g
Sugar:
1
g
Vitamin A:
233
IU
Vitamin C:
24
mg
Calcium:
205
mg
Iron:
7
mg
SaveSave
SaveSave
SaveSave