This Strawberry Freezer Jam far outweighs any store-bought jam, hands-down. My favorite thing to make when strawberries are in season!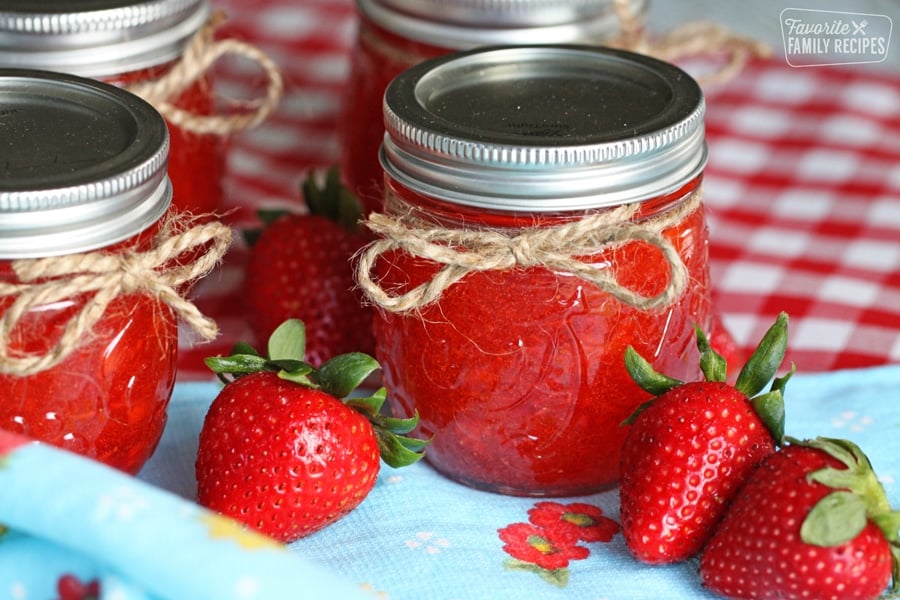 Strawberry Freezer Jam
You just can't beat a good homemade strawberry jam. Whether you get your strawberries from your own garden or from your local grocery store, jam made straight from fresh strawberries in your own kitchen just taste better than anything you can buy.
Why Freezer Jam?
Strawberry freezer jam is super cheap to make and it is so easy. Not to mention the taste FAR outweighs store-bought jam. You can make a batch in minutes and there is no pressure cooking necessary. Because it isn't pressure cooked, you can't store it on the pantry shelf but storing in the freezer couldn't be easier. You can store it in half-pint jars, plastic containers, or even freezer bags.
What's The Difference Between Jam and Jelly?
Jam and jelly are often (incorrectly) used interchangeably. Though they are similar, they are not the same. Also not to be confused with preserves, fruit spread, or marmalade. There is some confusion out there between all of these. I will break them all down for you here:
Jam: Made from fruit pulp, meaning there are actual pieces of fruit in it.
Jelly: Made from the juice of the fruit only. There are no fruit chunks at all. Just juice, sugar, and pectin. It is more gelatinous and oftentimes more firm.
Preserves: Much like jam, fruit preserves are made from fruit pulp but the fruit chucks are larger. The difference between the two is negligible and are difficult to tell unless labeled.
Fruit Spread: Fruit spread is like jam and preserves, but made without any added sugar.
Marmalade: Marmalade is made from citrus fruit such as orange, lemon, grapefruit, or even lime whereas jam is typically made from berries.
Can I Freeze Glass Jars
Yes! I have never had freezer jam jars break in the freezer. However, if you are worried about it or have lots of items in your freezer that might knock over or break the jars, you can always use plastic containers or even freezer bags. Lately I have been leaning toward the plastic Tupperware containers because they stack nicely in the freezer and cost less than glass jars. HERE is a link to the reusable plastic containers I like to use.
What's In Strawberry Freezer Jam
Strawberries- Make sure your strawberries are ripe. And remember to do the measurements with the mashed/pureed strawberries (not from sliced).
Sugar- Don't swap out sugar for any other kind of sweetener unless you are using the right kind of pectin and the correct amounts of the other ingredients. Not only will it not taste right, it won't set up the same either. For a sugar-free option, see below.
Water- be sure to use the exact amount called for.
Pectin- If you are making no-cook freezer jam, be sure to use "instant" or "no-cook" pectin. Otherwise you will need to cook the pectin on the stove to get it to set right.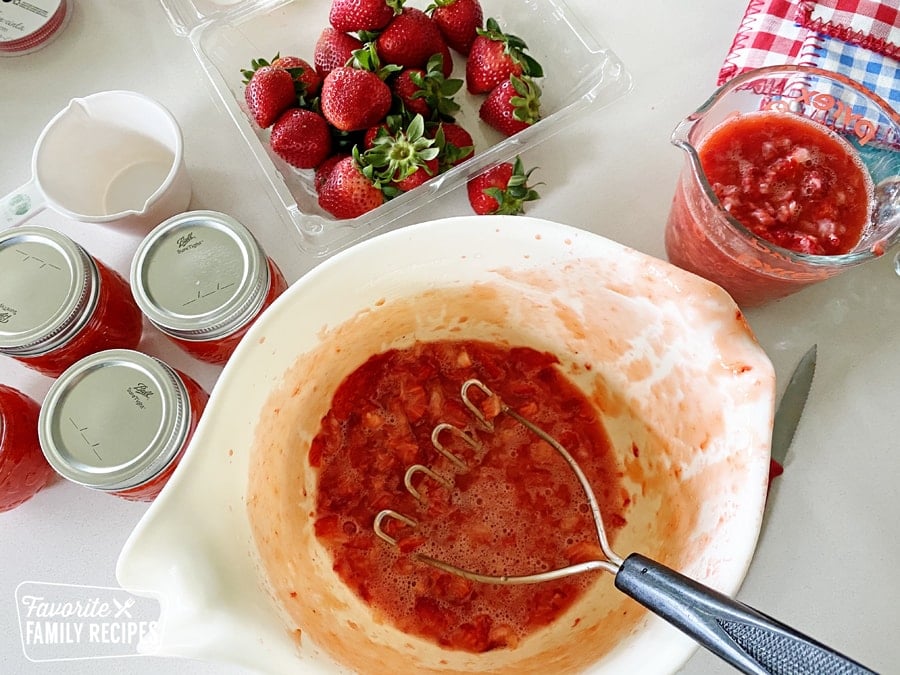 How to Make Strawberry Freezer Jam
Wash and hull strawberries
Place strawberries in a bowl and mash well. You can also use a food processor and pulse a few times, but don't do it too much, you don't want it pureed or it won't set. Measure exactly 2 cups of mashed strawberries for the recipe.
Add sugar and stir well
Prepare pectin by boiling with water
Pour pectin mixture into strawberries, stir well
Fill containers and allow to set for 24 hours before refrigerating or freezing.
A Low Sugar (and Sugar-Free) Option
At most grocery stores, you will be able to find a pectin that you can use specifically for low or no sugar jam (I used the Sure-Jell pectin in the pink box). When using this pectin, you can use 4 cups of crushed strawberries and 3 cups of sugar OR 6 cups of crushed strawberries and ½ cup Splenda (for sugar free). Just be sure to measure out the ingredients exactly so it will set up right. The instructions are slightly different with this kind of pectin so just be sure to follow the instructions provided in the box.
How Long Does Freezer Jam Last?
Freezer jam can last up to 3 weeks in the refrigerator and up to a year in the freezer. You are going to love how fresh it tastes, even after being in the freezer for months!
What Should I Put My Strawberry Freezer Jam On?
The possibilities are endless! Here are some easy recipes that pair perfectly with freezer jam:
Strawberry Freezer Jam
This Strawberry Freezer Jam far outweighs any store-bought jam, hands-down. My favorite thing to make when strawberries are in season!
Ingredients
2

cups

crushed strawberries

(about 4 cups fresh strawberries before being crushed)

4

cups

sugar

1.75

ounces

fruit pectin

(1 box or about 4 tablespoons)

3/4

cup

water
Instructions
Measure 2 cups (exactly) of crushed strawberries into a large mixing bowl.

Add 4 cups of sugar and stir well to combine. Let stand for 5-10 minutes, stirring occasionally.

In the meantime, add fruit pectin and water to a small sauce pan. Bring to a boil over medium-high heat, stirring constantly. Boil for 1 minute, stirring constantly, then remove from heat.

Add pectin mixture to strawberries and stir for 2-3 minutes or until sugar is completely dissolved.

Fill containers, leaving ½ inch space at the top to allow for expansion when freezing.

Cover with lids and allow to stand at room temperature for 24 hours before refrigerating or freezing.
Nutrition Information
Serving:
2
Tbsp
Calories:
77
kcal
Carbohydrates:
20
g
Sodium:
1
mg
Sugar:
20
g
Iron:
1
mg
Recipe adapted from Sure-Jell Fruit Pectin packaging