Squash has many varieties; including butternut squash, spaghetti squash, pumpkin, zucchini, and yellow squash. We will teach you the basics of how to cook these common squash varieties.
From winter to summer, squash is one of those sides that can be eaten year-round. Whether you're grilling up slices of sweet summer squash for a backyard barbecue or oven-roasting cubes of tender squash for a winter supper, there are so many options to preparing and eating this delicious bounty. But with so many kinds out there, which ones are best? How do you prepare all these different gourds? We have all the answers to your squash questions right here. We'll walk you through the different types of squash, how to prepare them, and give you all kinds of recipes to try with them!
Health Benefits of Squash
Squash is a terrific source of vitamins A, B6, and C, folate, magnesium, fiber, riboflavin, phosphorus, and potassium. The winter varieties are also high in beta-carotene, calcium, copper, and dietary fiber. These vitamins can aid in better eye health, reduce depression, and benefit your skin. In short, squash does a body good! To read more about the health benefits of squash, check out this helpful article.
Finding Good Squash
Finding good squash isn't that difficult to do. You can usually pick up a squash and eyeball it to see if there are any big imperfections or soft areas. Because most squash has such tough skin, it can handle being bumped around a little and it doesn't affect it too much, especially winter squash. This also makes it so squash can last longer than other vegetables. Winter squash can often stay good for weeks at room temperature before using!
Summer Squash vs. Winter Squash
Because squash is usually categorized into "summer" and "winter" varieties, one may assume that summer squash is grown in the summer and winter squash is grown in the winter. These labels can be confusing because BOTH are actually grown in the summer and are planted around the same time. So why the labels?
Summer squash is usually grown and picked within 60-70 days of being planted. However, winter squash can take up to twice as long before they are ready to be harvested (up to 120 days). Winter squash is also considered to be "winter" because they can often be harvested and stored until the winter months. Summer squash will typically not last that long, it will last a week or two at best after being picked and are usually consumed in the summertime.
Here's an easy breakdown of the noticeable differences between summer and winter squash varieties:
Summer Squash
Grown in a bush: Most summer squash grow in a bush and will produce a lot of fruit. That is why during harvest season, people seem to have never-ending zucchini. It grows fast, it produces a lot, and it needs to be eaten or prepared for storage quickly.
Softer skin: Can be cut easily. Most will leave the skin on when cooking and eating.
Mild flavor: Usually seasoned on the savory side. The flavor is mild and can easily be added to dishes without changing the flavor. They are more "watery" than winter varieties and cook faster.
Best when harvested young: Summer squash is tastiest when picked young while the skin is tender and the seeds inside are still immature.
Winer Squash
Grown on a vine: Unlike summer squash, winter squash grows on long vines and takes a long time to mature. Because it is a vine fruit, each plant will only produce a few at a time.
Tough skin: Difficult to cut. Because the skin is almost like a hard "shell", most prefer to not eat it.
Stronger flavor: Winter squash varieties typically have a smooth, nutty flavor that becomes sweeter as they cook. The flesh is denser than a summer squash. Butternut squash is the sweetest of the different varieties and can be compared to the flavor sweet potatoes.
Needs to be cured: Most winter squash, except acorn squash, should be cured prior to eating. This just means you should store them for 10-14 days at a warm temperature in a room with good circulation (or outside). The curing process allows the squash to be stored longer and become sweeter.
6 Common Types of Squash (and How To Cook Them):
There are over 100 different types of squash varieties that you can enjoy, but that would make this a very long post. Here in the United States, the most popular squash are (in no particular order): Yellow, zucchini, pumpkin, spaghetti, acorn, and butternut. The popularity of each of these really depends on the time of year. Here is a quick breakdown on these common varieties:
Yellow Squash

:
Farmer's markets and regular grocery stores always have an abundance of yellow squash. It's mild, low in calories and chock full of vitamin C. It pairs beautifully with another popular veggie, zucchini. You can eat yellow squash raw or cooked and makes a perfect side dish or snack.
Best Ways To Cook Yellow Squash:
Slice yellow squash, season with a little garlic or rosemary, then sauté in some olive oil on the stovetop.
Arrange slices of yellow squash in a single layer on a baking sheet, sprinkle with parmesan cheese and roast in the oven for a perfect side dish. You can also add roasted squash to salads, pizza, or pasta.
We love yellow squash so much, we created an entire guide on How To Cook Yellow Squash. Check it our for even more ways to cook up this tasty summer squash variety.
Yellow squash recipes:
Zucchini:
Zucchini grows in abundance during the summer. It's mild enough to add to dozens of recipes and adds lots of nutrients to any meal.
Best Ways to Cook Zucchini:
Throw slices of zucchini on the grill for a delicious summer side dish.
Dice zucchini and sauté until tender. Season with salt and pepper and add them to casseroles, pastas or salads.
For baked "fried" zucchini, check out THIS easy recipe. Cut zucchini into spears or slices, roll in parmesan cheese and bread crumbs, drizzle with olive oil and roast (or air fry) for a crispy snack.
Easy Zucchini Recipes:
Spaghetti Squash:
For those looking to cut carbs out of their diet, spaghetti squash is an ideal alternative for noodles in your favorite pasta dishes. Plus it's high in fiber so you can fill up on nutritious squash instead of high calorie pasta. Spaghetti squash is mostly used as a spaghetti or pasta substitute but it can also be used in casseroles and stir fry dishes.
Best Ways To Cook Spaghetti Squash:
We have dedicated an entire post on How to Cook Spaghetti Squash (4 Ways). This is a full, comprehensive guide that will teach you, in detail, all the ways to cook spaghetti squash. It's easier than you might think! Give any of these methods a try for perfect spaghetti squash every time.
Spaghetti Squash Lasagna:
Another fun way to use spaghetti squash is as a "boat". Use a fork to shred up the spaghetti squash and mix it with sauce and toppings and return it to the "shell" and continue baking. A good example of this is our Spaghetti Squash Lasagna recipe (above). Switch it up and use different toppings to make taco boats or chicken Alfredo bakes.
Pumpkin:
Pumpkin is rich in all sorts of vitamins and minerals and is absolutely delicious. It's known to protect your eyesight, boost your immune system and even protect against certain types of cancers. Pumpkin can be dressed up a million different ways, from savory to sweet.
Best Ways To Cook Pumpkin:
You can roast or steam pumpkin for soups and casseroles.
Roasting in the oven can result in a more intense flavor. Plus roasting rather than steaming allows more moisture to escape during the baking process so it's not as wet.
Once you've roasted or steamed, you can puree the pumpkin to use in dozens of recipes. Here is our easy guide on How To Make Pumpkin Puree.
Best Pumpkin Recipes:
Check out our ENTIRE collection of pumpkin recipes HERE.
Acorn Squash:
Acorn squash is very similar to pumpkin, with a sweeter flavor but still that mild, buttery taste. It pairs well with sweet or savory, which makes it one of the most versatile squashes to add to recipes.
Best Ways To Cook Acorn Squash:
The easiest way to cook acorn squash is roasting. You can cut it in half, season with brown sugar, maple syrup and some butter. Roast it on a high temperature then dice it up.
To make it a little more savory, simply add olive oil, salt, and pepper.
Use a sharp chef's knife to cut the butternut squash in half, then cook in a slow cooker. It'll be nice and soft to use in soups and other recipes.
Tip For Easier Cutting:
Winter squash typically have a tough skin that is difficult to cut through. To make cutting easier and to avoid injury, place your squash in the microwave for 1-3 minutes to soften the skin. Now you can cut it in half easily for roasting!
Butternut Squash:
Much like the rest of the squash family, Butternut squash is mild in flavor but rich in vitamins and antioxidants. It's so versatile and can be added to both sweet and savory recipes.
Best/Easiest Ways To Cook:
The easiest way to cook butternut squash is in the oven. Read on for the recipe (below) on how to roast butternut squash.
You can also cut the butternut squash in half, then place in an instant pot, slow cooker, or even the microwave.
Make it sweet by tossing in brown sugar and cinnamon before roasting.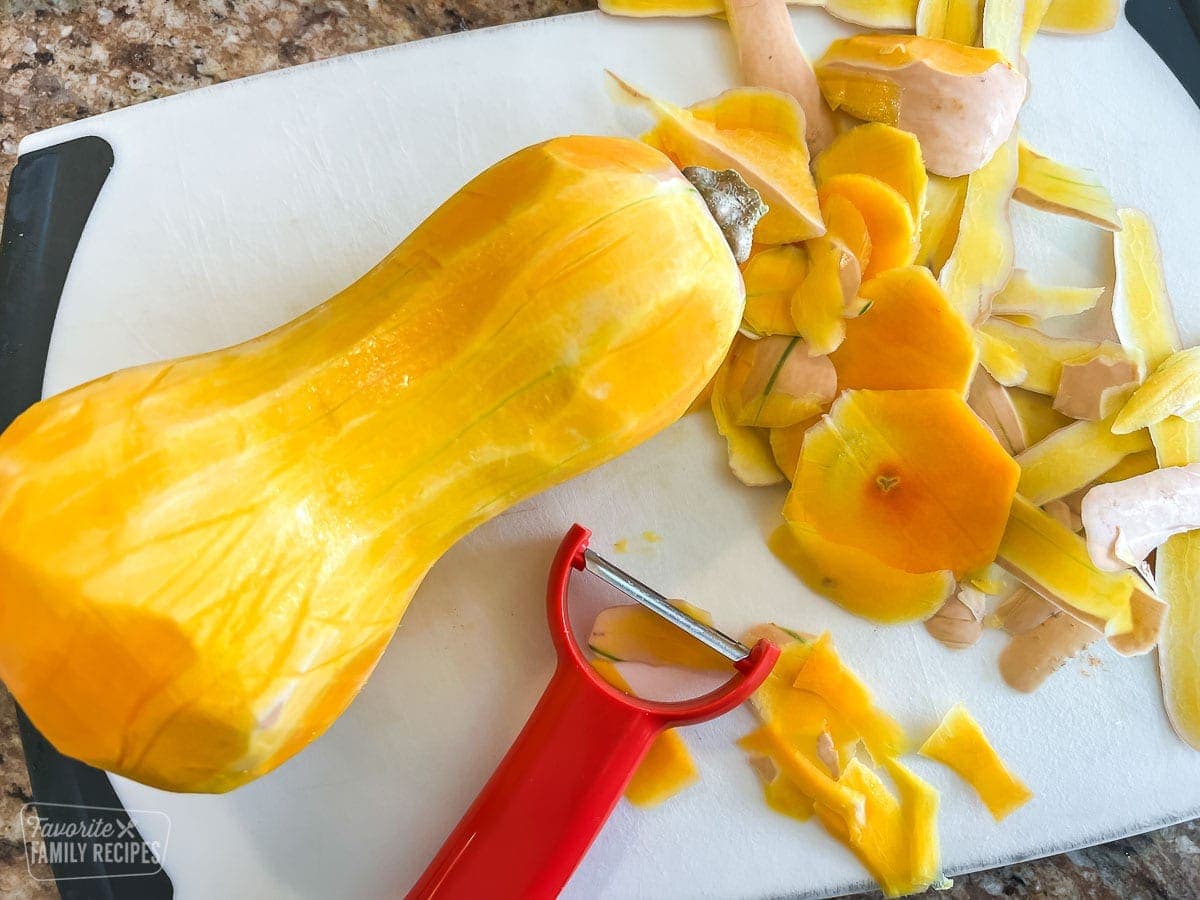 Butternut Squash Tip:
To roast cubed butternut squash, make sure to peel it before you cube it. A simple vegetable peeler can take the skin right off.
Butternut Squash Recipes:
How To Make Roasted Butternut Squash
This roasted butternut squash recipe couldn't be easier! Make it sweet of savory depending on your tastes. Serve on its own or in your favorite recipes using butternut squash.
Instructions
Preheat oven to 400-degrees F.

Using a sharp vegetable peeler, carefully peel the entire butternut squash.

Carefully cut the squash in half, lengthwise, and scoop out any seeds and stringy fibers.

Cut squash into cubes and place on a parchment-lined baking sheet. Drizzle with olive oil and sprinkle with salt and pepper. Toss to coat.

Bake for 15 minutes, then remove from oven and stir around for even baking. Return to oven and bake another 10-15 minutes or until slightly crispy and cooked through.

Serve as-is or in your favorite roasted butternut squash recipes.
Nutrition
Calories:
146
kcal
|
Carbohydrates:
22
g
|
Protein:
2
g
|
Fat:
7
g
|
Saturated Fat:
1
g
|
Polyunsaturated Fat:
1
g
|
Monounsaturated Fat:
5
g
|
Sodium:
8
mg
|
Potassium:
660
mg
|
Fiber:
4
g
|
Sugar:
4
g
|
Vitamin A:
19931
IU
|
Vitamin C:
39
mg
|
Calcium:
90
mg
|
Iron:
1
mg