These delicious Christmas desserts can be served along with Christmas dinner or any time throughout the holiday season!
Christmas Dessert Ideas
Whether you are in the mood for some Christmas baking or want an easy no-bake dessert, we have plenty of Christmas desserts that are sure to be a hit for Christmas dinner or any time throughout the holidays. We have broken down these fun Christmas desserts into six categories so you can easily find what you are looking for: Cakes & Cupcakes, Pies, Cheesecakes, Layered Desserts, Christmas Cookies, and Brownies.
Christmas Cakes & Cupcakes
You can't go wrong with a decadent cake on Christmas day. Bright red berries and vibrant green mint or rosemary garnish can turn your average cake into a gorgeous Christmas cake. Whether you like a rich dark chocolate cake or a white chocolate cake, you can't go wrong with adding those Christmas reds and greens! Don't feel like making an entire cake? Try making our festive Christmas Tree Cupcakes or individual servings of our Instant Pot Lava Cake!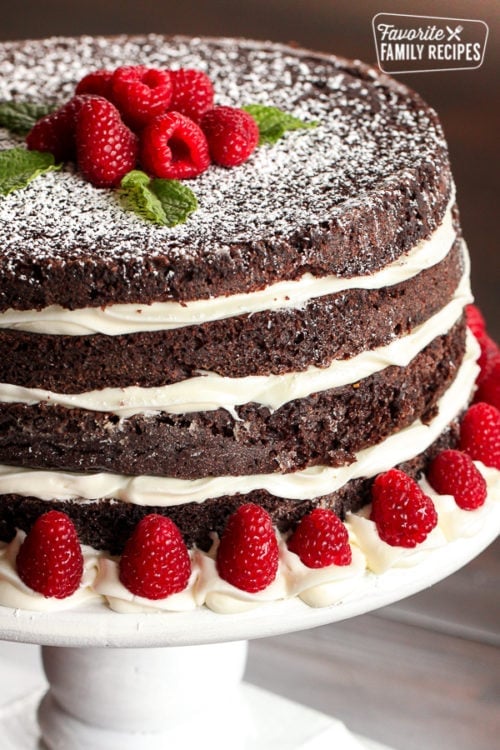 Pies Perfect For Christmas
Nothing beats the smell of pie baking at Christmastime. Traditionally, our family always serves Berry Pie, Pumpkin Pie, and of course, our Mom's famous Lemon Meringue Pie on Christmas Day. Sometimes when we are hosting other families or if we simply want to switch things up, we include some of our other delicious pie recipes. What is your go-to pie for Christmas? We would love to know! Share your favorites in the comments below.
Cheesecakes
Cheesecake is such an easy dessert to glam up for Christmas. It's so rich and creamy and pairs well with any Christmas dinner. You can go with a traditional cheesecake with a berry/cherry topping or take it a step further and make a pumpkin cheesecake. It seems like Christmas day is the last call for anything pumpkin so it's a great way to use up that last can or two before next Fall!
Layered Christmas Desserts
Layered Christmas desserts are always a great choice when serving a crowd. They are easy to make and always look impressive. Since the layers themselves make for a beautiful presentation, there is no need to go over the top with decorating!
Christmas Cookies
I love Christmas cookies because they can be a little treat throughout the day or they can also be served as a dessert. Each cookie (or two) can simply be a serving so it is easy to figure out exactly how many to make. They are easy to transport and can easily be made ahead of time. Cookies also freeze well so they can be made weeks ahead if need be. They don't require dessert plates, meaning less mess on Christmas day. There are so many advantages to serving cookies as a Christmas dessert!
Christmas Brownies
Brownies are such a simple dessert, yet they are ALWAYS a hit. You can serve them plain or you can dress them up Christmas-style by adding peppermint, sprinkles and/or Christmas candy. Brownies are an easy Christmas dessert that everyone loves and they don't have to take a lot of time.
Looking for more ways to celebrate Christmas day? Start the day off with one of our easy breakfast ideas, then throughout the day, munch on some of our favorite Christmas treats. We also have 25+ Christmas Dinner Ideas to help you plan the perfect meal to celebrate the season with your family and friends. Finish off the day with one (or more) of the Christmas desserts below and you have a day FULL of delicious Christmas recipes to remember!