What better way to start the day than with a delicious breakfast meal? Whether you're looking for a quick, easy solution for your kids' school mornings, or just want to make something simple for yourself before work, having a few go-to breakfast ideas on hand can help you get started quickly in the morning.
We've compiled a list of our favorite breakfast ideas for every occasion. No matter the time of day or what season it is, these recipes are perfect for getting you out of bed in the morning and into a good mood so that you can start your day off right!
Also looking for some lunch and dinner ideas? Here are more than 30 Lunch and Dinner ideas to try.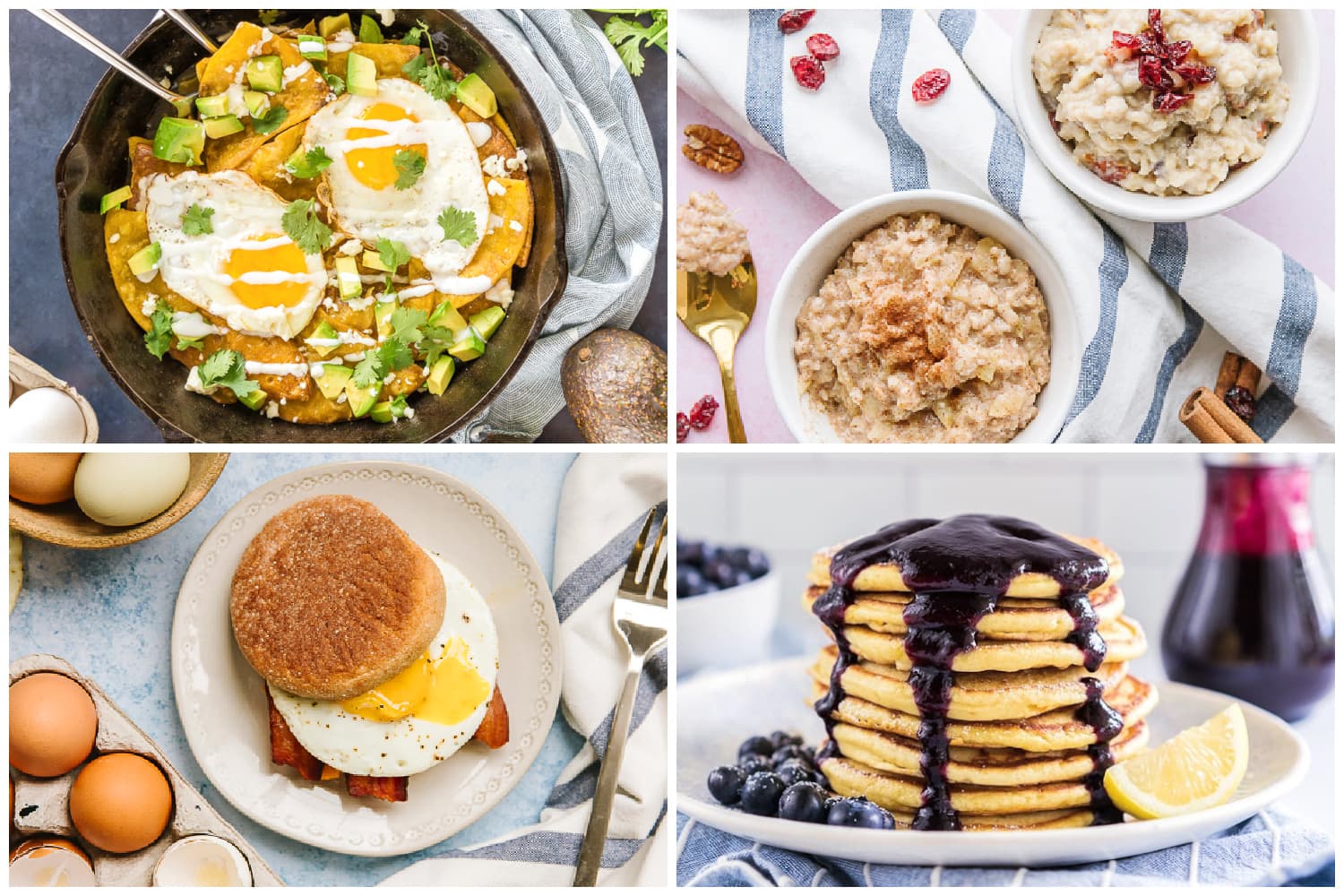 Featured in this post
Start the Day with a Powerful and Healthy Breakfast
They say breakfast is the most important meal of the day, but it's easy to get stuck in a breakfast rut. Sometimes you just need a few ideas to get the wheels turning.
Here are more than 33 tasty and filling breakfast recipes for you to browse.
We are sharing easy breakfast recipes in six categories:
Quick and Easy Breakfast Ideas (just two ingredients!)

Breakfast Sandwiches

Egg Breakfasts

Sweet Breakfasts

Breakfast Breads

Grab-and-Go Breakfasts
Each recipe here is a tried and true family favorite your family will love. In addition, we've included a recipe for our hearty Breakfast Quesadillas.
Quick and Easy Breakfast Ideas With Only 2 Ingredients
When you need to come up with something quickly, these two-ingredients breakfast ideas are lifesavers! Keeping some of these ingredients on hand for those mornings that are rushed is always a good idea.
It only takes a few minutes to throw these morning meals together, yet they are still filling and will hold you over until lunchtime.
Instant Pot Oatmeal. It only takes 2 ingredients and 3 minutes to feed the whole family nutritious and filling old-fashioned oatmeal.
Avocado Toast. This healthy toast will keep you full until lunch. Of course, you can add an egg for an extra protein kick.
Scrambled Eggs. Whisk eggs with a little milk and fry them up in a skillet. For another extra delicious scrambled egg dish, try our French-style Scrambled Eggs.
Yogurt with Fruit or Granola. Use Greek yogurt for extra protein with your favorite berries (raspberry, strawberry, blueberry, blackberry) sliced bananas, or peaches. For a little crunch, add some granola or nuts.
Toad in the Hole. This is a fun breakfast idea for cooking toast with an egg. Cut a small circle in the center of piece of bread, butter both sides, then place it in a small skillet. Crack an egg into the hole. The bread is toasted and the egg is cooked all at once.
Cottage Cheese with Fruit. Top a bowl of cottage cheese with sliced peaches, pears, pineapple, and berries for a quick and refreshing breakfast.
Bagel and Cream Cheese. With so many bagel and cream cheese options, you can mix and match flavors every morning for a month! One of our favorites is an everything bagel that is toasted and topped with whipped cream cheese.
Bananas and Peanut Butter (or Nutella). Place 1 tablespoon of peanut butter in a small bowl and use it as a dip for a banana or apple slices for a fast breakfast. Crunchy peanut butter or Nutella are also delicious.
2 Ingredient Pancakes – Pancakes that come together with just bananas and eggs. Source: thebigmansworld.com
Breakfast Sandwiches and Toast
Breakfast sandwiches may be one of the best breakfast ideas out there! They are hearty and easy to eat, especially for kids.
There are so many delicious toppings to choose from, and as a result, the possibilities are endless. All of your favorite breakfast foods can be piled onto an English muffin, whole wheat toast, croissants, or baked in a pastry shell.
Breakfast sandwiches can be eaten alone, however, adding some fruit on the side instantly creates a nice, sit-down morning meal or brunch.
Egg McMuffin (copycat recipe). Our version of an Egg McMuffin from McDonald's restaurant is more customizable, less expensive, and we have to say, it tastes better.
Breakfast Monte Cristo Sandwich. Sweet and savory meet together in this easy to make, decadent breakfast sandwich.
Breakfast Hand Pies. These rich pastries filled with eggs, ham, and cheese are baked in the oven. In addition to being a great way to feed a crowd, they are also easy to eat on the run.
Light Freezer Breakfast Sandwiches. This lightened up version of an Egg McMuffin can be made in bulk and then frozen. It's ideal for busy mornings.
Breakfast Croissant Sandwiches. Layer a fried egg with sausage or bacon on a flaky croissant for an appetizing and hearty breakfast. Don't forget a slice of cheese for added yum!
Eggs Benedict. The secret to Eggs Benedict is in the creamy Hollandaise sauce. Although it sounds fancy, our simple recipe helps you make it perfectly every time.
Meat Lovers Breakfast Sandwich. 3 slices of toast loaded with sausage, bacon, and ham.
Healthy Breakfasts with Eggs
You just can't go wrong serving eggs for breakfast. Eggs are low-carb, yet high in protein which sustains energy throughout the day. Furthermore, they are loaded with nutrients like vitamin D, folate, riboflavin, and selenium.
Eggs are also versatile and can be combined with a wide variety of ingredients to make a protein-packed meal. Serve with a side of hash browns or toast for a hearty morning meal.
Switch up your rotation by incorporating some breakfast ideas from another country. For instance, try our Chilaquiles recipe from Mexico or Shakshuka, an Israeli dish to add some flavor to the day.
Breakfast Casserole. This casserole is ideal for big families or groups. One casserole serves 12-15 people.
Chilaquiles. This popular breakfast enhances fried eggs by adding the flavors of Mexico, specifically fried corn tortillas, green salsa, and cilantro.
Breakfast Burritos. Give the morning some southwest flair. For example, add beans, potatoes or rice, salsa, and guacamole to the basic eggs and cheese filling.
Shakshuka. A savory recipe enjoyed in Israel with poached eggs, a rich tomato sauce, and fresh cilantro.
Omelets. Start with eggs and then add your favorite meats, cheeses, and veggies for a healthy and colorful omelet.
Eggs Over-Easy. This is a popular way to serve eggs. The egg whites are cooked through on both sides, but the yolks stay runny in the center. Source: thekitchn.com
Breakfast Quesadillas (see recipe below). A breakfast quesadilla is similar to a breakfast burrito, however it is easier to eat and has an added crunch to the outer shell.
Sweet Breakfast Ideas Including Pancakes, Waffles, and French Toast
A big pancake or waffle breakfast is always a favorite with kids and likewise, adults! Weekends are a great time to pull out the waffle iron or griddle and make up something special. Some hot maple syrup or a flavored syrup and sprinkled powdered sugar on top are just the ticket for a fun start to the day. Everyone will be asking for seconds when you make up one of these delicious recipes.
Read More: The 7 Best Syrup Recipes
Breakfast Breads, Muffins, and Rolls Breakfast Ideas
For a taste of homemade goodness in the morning, breads are the way to go. Breakfast breads, muffins, and cinnamon rolls can be made ahead, saving time and energy in the mornings. And, baked breads just make you happy. They taste so good. Without doubt, each bite will put a smile on your face and you know it will be a good day!
Banana Bread. Is there anything better than the aroma of banana bread baking in the oven? A slice of this for breakfast and you know the day is going to be amazing.
Healthy Chocolate Chip Muffins. This is our healthier version of a Costco chocolate muffin. They taste just as good, however they are more nutritious and have less calories.
Pumpkin Bread. Our recipe for pumpkin bread can be made with or without chocolate chips. In short, your choice!
Healthy Banana Muffins. These muffins are loaded with taste even though they are low in sugar. A great way to start the morning.
Cinnamon Rolls. Homemade cinnamon rolls can be intimidating, but our step-by-step instructions make it so easy. Make a big batch for now and freeze some for later.
Bran Muffins. The batter for these muffins lasts for six weeks in the fridge. Make a big batch and you'll have fresh, warm muffins in a snap. They are low in calories, in fact only 100 calories each.
Biscuits and Gravy. Bring classic Southern comfort food to your table easily and quickly. You'll love the flaky biscuits and homemade sausage gravy.
Homemade Orange Rolls. Sticky cinnamon buns with and tangy orange cream glaze. Source: thestayathomechef.com
Coffee Cake. This easy coffee cake is made with a cake mix, and topped with a buttery, cinnamon and sugar topping.
Blueberry Coffee Cake. Try this delicious coffee cake that is swirled with sweet cream cheese and fresh blueberries, then finished with a sugary crumb topping.
Grab and Go Breakfast Ideas
We included some quick breakfast ideas above with only 2-ingredients. These breakfasts are also quick, but require a few more ingredients. Make one of these portable breakfasts and enjoy them on the car ride to school, on the commute to work, or as you watch the soccer game early Saturday morning. They also make great after school snacks.
Breakfast Quesadilla Recipe
In addition to our breakfast ideas, here is our promised bonus recipe for our delicious breakfast quesadillas. Much like a breakfast burrito, Breakfast Quesadillas are filled with egg, cheese, and your favorite meat.
From there, the possibilities are endless. Make it a vegetarian version by adding sauteed red peppers, bell peppers, or onions, or add all of those things even if you do like meat in your breakfast quesadillas. Unlike breakfast burritos, these are MUCH easier for kids to eat.
Whenever my kids attempt breakfast burritos, they always have the eggs spilling out the back, not so with these. Everything stays nice and put.
Personally, I like having the little crunch from the crispy shell. It just adds a nice dimension that a breakfast burrito doesn't provide. Hope your family loves these as much as ours does! Enjoy!
Easy Breakfast Ideas – Breakfast Quesadillas
My family LOVES breakfast quesadillas. Much like a breakfast burrito, they are filled with egg, cheese and your favorite breakfast meat.
Instructions
In a large skillet, scramble the eggs (add salt and pepper to taste).

Spray skillet or griddle with cooking spray and heat over medium-high heat. Place one tortilla on the skillet or griddle and heat on one side.

When tortilla is hot, flip and add half of the cheese.

Add scrambled egg and distribute evenly.

Sprinkle on remaining cheese and top with remaining tortilla. Cook for about 1 minute or until cheese starts to melt, then CAREFULLY flip (you don't want all the egg falling out).

When the cheese is melted and the tortilla is golden brown, remove from pan. Cut into quarters with a pizza cutter and serve with sour cream and/or salsa.
Notes
Recipe tips
Bacon, breakfast sausage, and diced ham all work great in this recipe.
Hand shredded cheese from a block melts better and keeps the ingredients within the quesadilla when eating.
Serve with salsa, sour cream, and/or guacamole.
Nutrition Information
Calories:
245
kcal
Carbohydrates:
16
g
Protein:
11
g
Fat:
15
g
Saturated Fat:
5
g
Cholesterol:
178
mg
Sodium:
414
mg
Potassium:
150
mg
Fiber:
1
g
Sugar:
1
g
Vitamin A:
238
IU
Calcium:
56
mg
Iron:
2
mg
Love this recipe?
We want to hear from you! Please leave a review.